Our next book club will be meeting on Monday 14 June and we will be discussing books written by New Zealand authors.
Call or email us to find out more about the book club.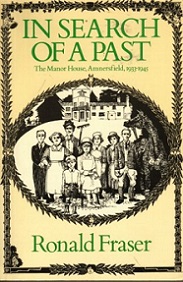 Title:
In Search of a Past - The Manor House, Amnersfield, 1933-1945
Ronald Fraser, the internationally renowned oral historian, turns his attention to his own origins in this remarkable memoir. In Search of a Past gathers the recollections of the servants who worked at the manor house outside London where Fraser grew up. It was the place where his parents - one American, the other Scottish - learned to embrace the lifestyle of the idle local gentry. Fraser paints a vivid picture of a vanished interwar world. Sensitively recorded, the words of his family's former employees capture the texture of English "county" life as seen from below, woven into a background of their personal lives, their work and the social antagonisms they experienced. Beneath their stories, however, the author glimpses another unspoken narrative - that of his own childhood. He submits to a course of psychoanalysis and delves into a past riven by confusing emotions and conflicting class allegiances. The result is an innovative, honest, and beautifully written account of the search for lost time, one that defies literary categorization....